Red Sky Health Guard
Red Sky Health Guard is a Real-Time Health Communication System
designed to keep your Organization Safe & People Healthy
iOS & Android Self-Assessment Mobile App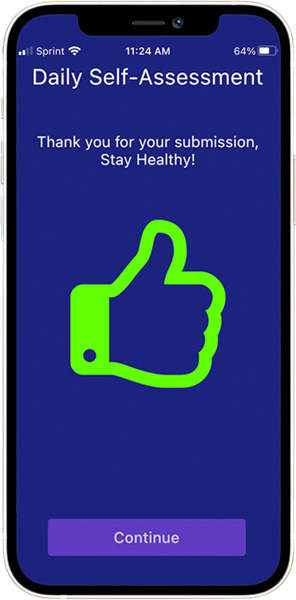 Daily Self-Assessment
Taking only a few moments, users submit their daily health self-assessment which is securely stored in the cloud. Each morning administrators view the dashboard to quickly see if any submissions include positive reponses to the brief questionnaire and if so, appropriate actions are taken to ensure their facility is a healthy and safe environment. Responses are displayed on a Google map as color-cooridanted points indicating their health status.
Custom Questionnaires
All self-assessment questions have been approved by the CDC &amp WHO, however these questions can be easily modified and additional questionnaires created as needed.
Unlimited Mass & Targeted Messaging
At any time, organizations can easily send messages to all users or specific individuals based on their location, associated groups or other options. This powerful communications system instantly sends targeted messages to specific or all users regarding organization announcements, emergencies, inclement weather, power outages and more - to keep your people safe and informed.
Open API
Red Sky Health Guard was developed with a real-time Open API to securely share data with approved partners or to be consumed by software applications and/or services.
Cloud-Based Dashboard
Red Sky Health Guard offers a Feature-Rich Data Visualization Dashboard
Registration
Each organization has secure access to their own personalized Redsky Health Guard Dashboard. A free iOS & Androice Red Sky Health Guard mobile app is provided to all users and they can easily register by only entering their name and organization's email address.
Contact Tracing & Reporting
Red Sky Health Guard records the GPS location when a self-assessment was submitted and is saved for 90 days allowing for contract tracing. Groups of GPS submittals are displayed as points or groups on a Google map and can be viewed over time. Should an outbreak occur in any region, users can be notified if they were in that area in the past 14 days (or more).

A wide range of reports can be generated, or the data exported as a CSV file, based on GPS coordinates, locations, user submitted symptoms and other criteria. The only data that is stored is the GPS location and health status when a self-assessment was submitted and never any Personal Identifiable Information (PII).
Contact
Get In Touch With
Us
All form submissions will receive a response within 48 business hours.